The New Adventures of Bernice Summerfield Volume 1 (Audio)
Reviewed By
Jesse Kiefer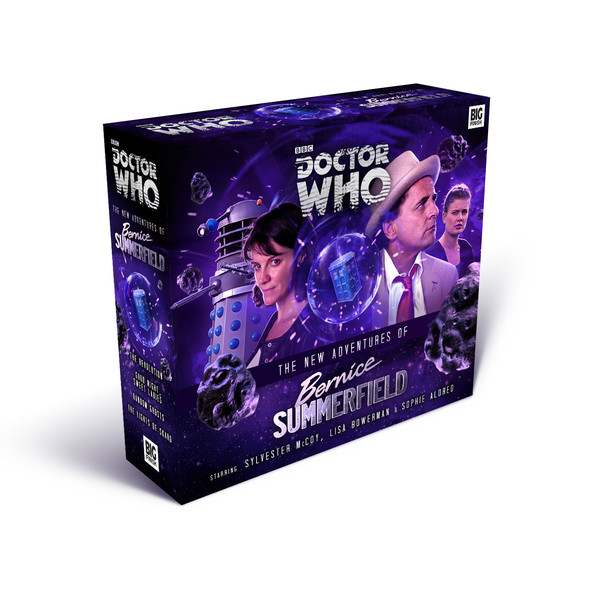 Written By: Nev Fountain, Una McCormack, Guy Adams, James Goss
Director:
Scott Handcock
Sound Design: Steve Foxon
Music:
Steve Foxon
Cover Art: Tom Webster
Number of Discs: 5
Duration: 300' approx.
Available on BigFinish.com
"Death, Taxes, and Daleks Ace, you can't stop them…. but you CAN learn to cheat all three, I have."
Another Big Finish Box Set Review? Kiefer you might have a problem. In fact Randy even joked about staging an intervention. This review is a little late… as this Big Finish set was actually released in June of… last year. Well, here's why...
This month they released the
second volume
of The New Adventures of Bernice Summerfield. Well, the big bad for that set is none other than the wildly popular villain of 4th Doctor classic story "The Pyramids of Mars"... Sutekh! As a 4th Doctor person I've been eying this one ever since they released informaion about it, but here's the catch… I really don't know a lot about Bernice Summerfield.
I know the basics. I know that she's a Seventh Doctor Companion that was originally introduced during the wilderness era in the range of novels called "The New Doctor Who Adventures". Specifically in the novel entitled "Love and War" (
Which Big Finish has done a lovely audio adaptation of as well
). So rather than jump blindly into the second volume I figured that if I wasn't going to go all the way back to start at the very beginning then I should at least start with the first volume of the series I was looking to get into. This decision leads us to this moment where we find Jesse reviewing a slightly older release so he doesn't start making errant remarks when he inevitably reviews volume 2. (Look for that review in the relatively near future as well.)
So in June 2014 Big Finish brought the beloved character of Bernice Summerfield back in this new box set series. As a newbie to Bernice's storyline I knew there would be several references I might or might not understand. I was worried that the latter might make this a very tough series to listen to. As usual as a listener I was in good hands with Big Finish.
I like the premise here. These New Adventures include the Seventh Doctor and Ace, both companions that Bernice Summerfield knows well and has time traveled with in the past. Now saying that I think a fair worry might be that The Doctor would over shadow things and this series could feel like a Bernice Summerfield series in name only. That really wasn't the case though, Ace and the Seventh Doctor were used very well and although they had a definite impact on the story this was definitely the story and adventures as experienced by Bernice Summerfield. The others were used just enough. I like this format and approach, I liked how this approach was used similarly in the UNIT: Dominion, The Worlds of Doctor Who(
read that review here
), and I like it here in Bernice's story as well. In fact, this approach is what I'd love to see applied more often in the Companion Chronicles series. Yes, tell the story from the point of view of the companion but involve their doctors (the actors who played them) whenever possible. Actually having the voice of the respective doctor in this story almost helped it feel MORE like it wasn't a Doctor Who story than if he'd just been referenced heavily.
I alluded to the fact that I don't know a lot about this era of Doctor Who and these characters and the fact I was worried I wouldn't be able to follow the story but as it turns out even though they refer to things that "Benny" had got up to I never felt overly lost. I think that is due to the story being really pretty focused on the present situations, which made the story (and not the back story) the driving focus. I really appreciate that as a first time listener. Also it means that I can indeed recommend that this set can stand on it's own and you don't have to know about Bernice's full history in order to enjoy it. I'm sure it helps but I didn't know a whole lot going in and still enjoyed these stories immensely..
In a big 5 disc set like this you are going to get a lot of variety. Some of the parts and stories were more entertaining to me than others but I did enjoy being along for the whole ride.
My favorite parts were the 1st part entitled "The Revolution" and the final part entitled "The Lights of Skarro". The first story was very funny, I was almost taken aback by how funny and ineffective the Doctor was in this part as we get the impression something is very wrong with the Doctor. All we know for certain is that he's acting a little bizarre and he's up to something but no one (including him) knows what exactly that might be.
The middle parts establish what the impetus for the story will be and sets up what will ultimately be the true conflict and then the final part really nails the story down and brings it all home in a fun and satisfying way.
I would definitely recommend this as a jumping on point for this range of stories. Only time will tell if I could have skipped this one in favor of getting straight onto Vol 2 and Sutekh or not but I'm glad that I didn't. I give this set a solid 4 stars. The narrative drug for me a little in the middle but I still appreciated the story as a whole and there are definitely stories here in that I'd be more than happy to relisten to down the road.
Any Bernice Summerfield fans out there? If I were to read or listen to more of her tales… which ones would you recommend? Let us know in the comments or shoot us an e-mail to
letters(at)grawlixpodcast.com
. Thanks for reading and I implore you Grawlix addicts to listen and read responsibly.
The New Adventures of Bernice Summerfield Volume 1 (Big Finish Audio Play)
Reviewed by
Jesse Kiefer
on Jun 15
, 2015
Rating: In June 2014 Big Finish brought the beloved character of Bernice Summerfield back in 'The New Adventures of Bernice Summerfield Volume 1' box set series. How does it fair for a Doctor Who fan unfamiliar with the character?